Problem Statement:
The moment individuals on the spectrum age out of high school (typically around age 22), the support provided to families through the Individual with Disabilities Education Act (IDEA) just... ends.
 Parents have compared it to falling off a cliff. Most of the options presented to parents in the child's transition plan include postsecondary vocational, educational, and residential programs, all of which often have eternal waitlists and limited spaces. In Illinois alone, there are nearly 20,000 people with developmental disabilities that are on a waitlist for an adult program with no affordable alternative in the meanwhile. Needless to say, there is a significant gap between the transition options presented to families and the successful integration of individuals into society past this transition. 
Research Question: 
How might we adapt existing solutions to provide adults with autism with fulfilling and productive lives past schooling, and develop self-sustaining, integrated support systems for individuals and families?
In response to the research question posed above, I am currently designing a digital service that can consolidate necessary resources for parents and families in this transition period, while also generating customizable alternatives to the current system. 
See my first iteration below (more details at the bottom of this page) and stay tuned for updates!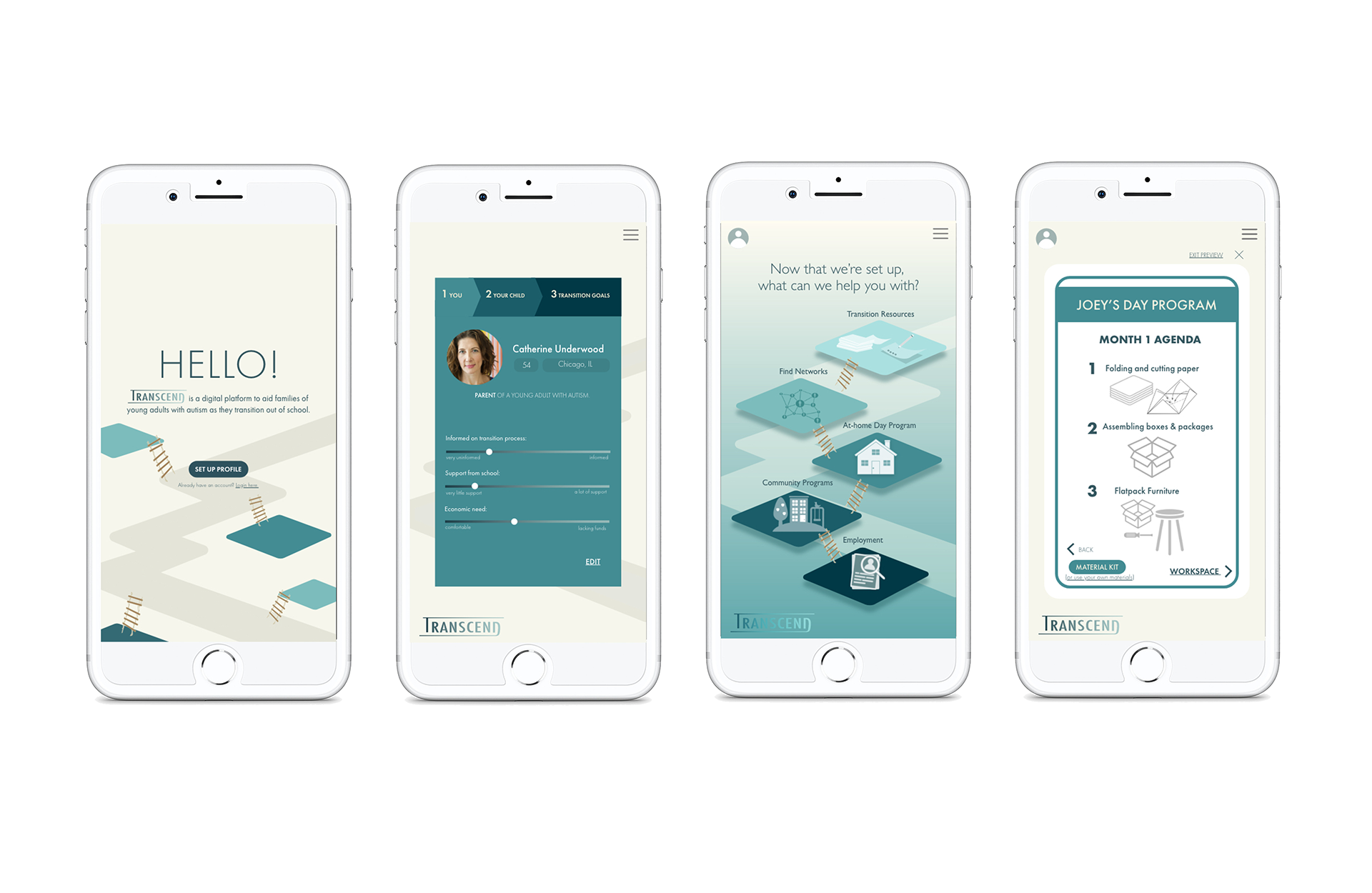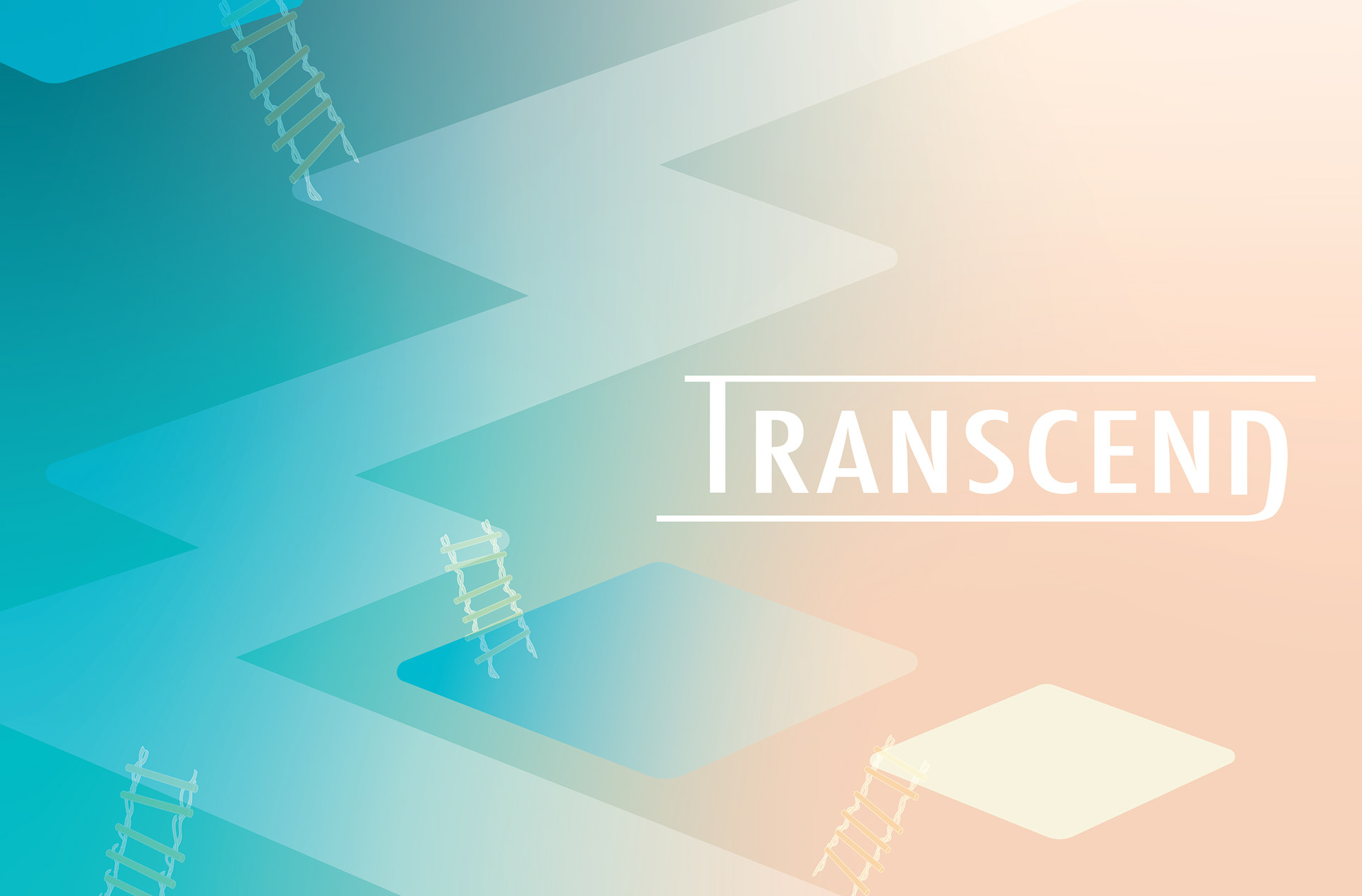 Understanding the Problem Space
In beginning this project, I immediately dove into a four week sprint of secondary research in order to form a comprehensive problem statement and determine a design direction. As an important part of my research, I chose to analyze an existing integrated community in Chicago, IL that represents a relatively successful but still inaccessible model for postsecondary transition programs. 
You can find this analysis in my research paper here.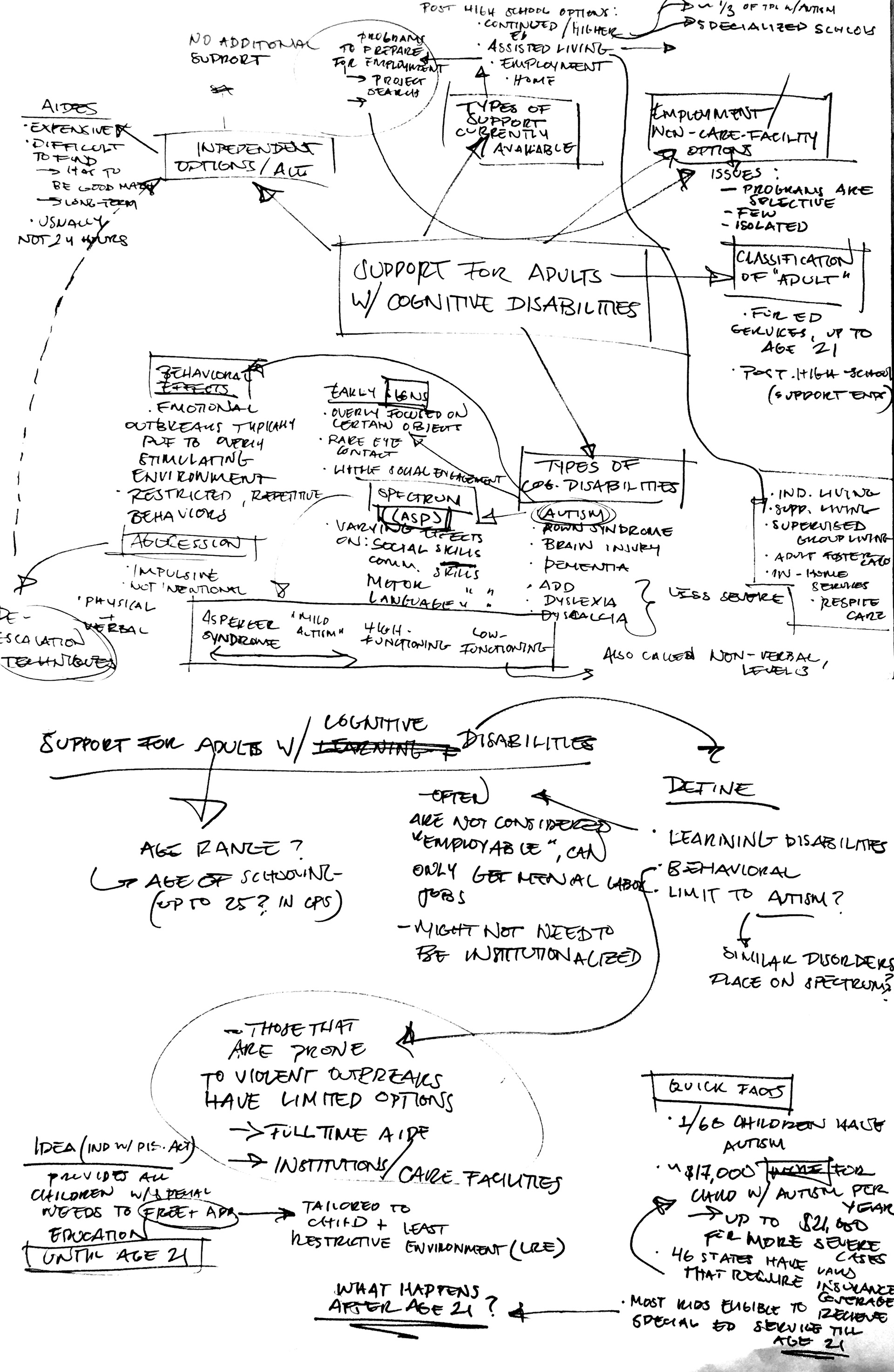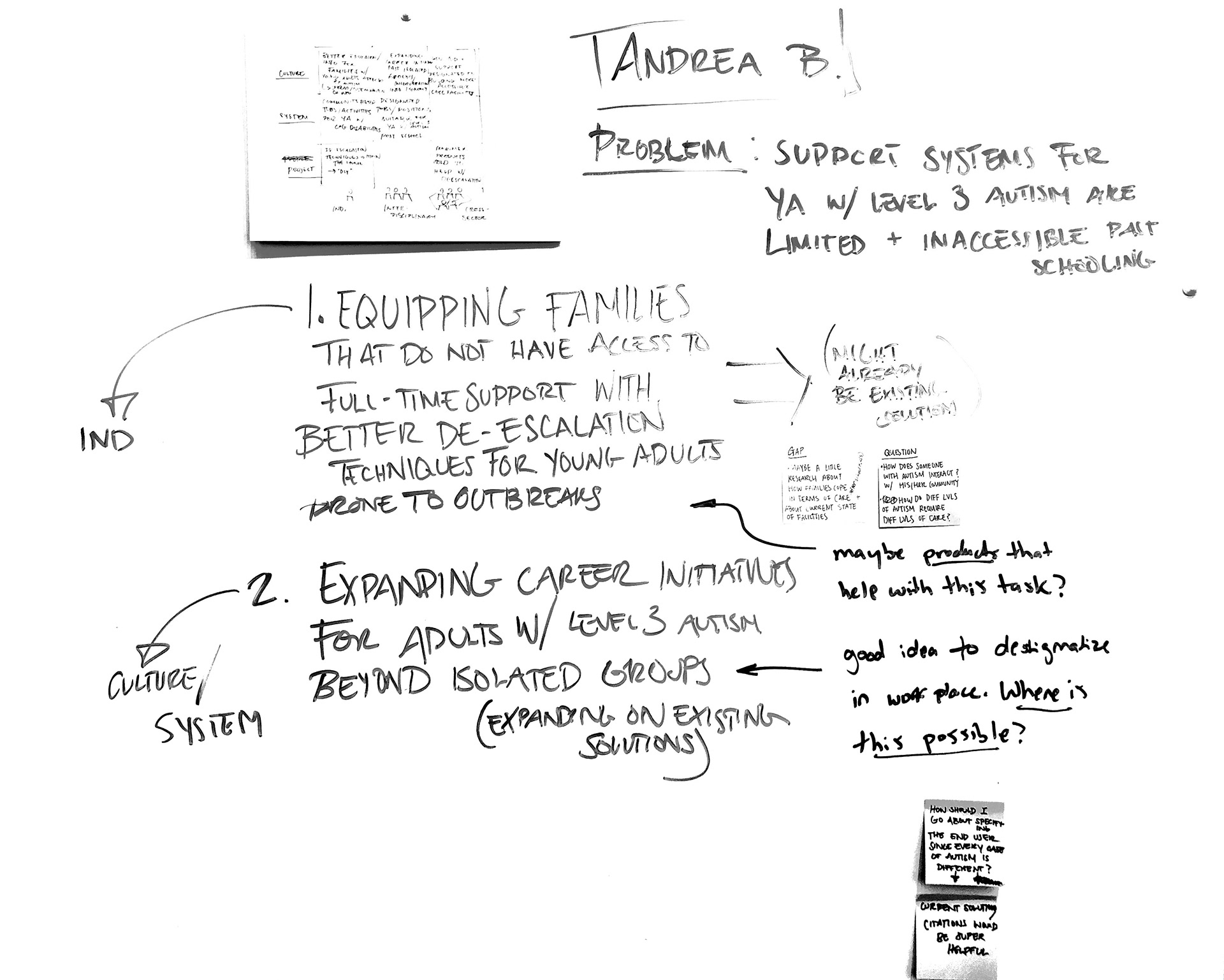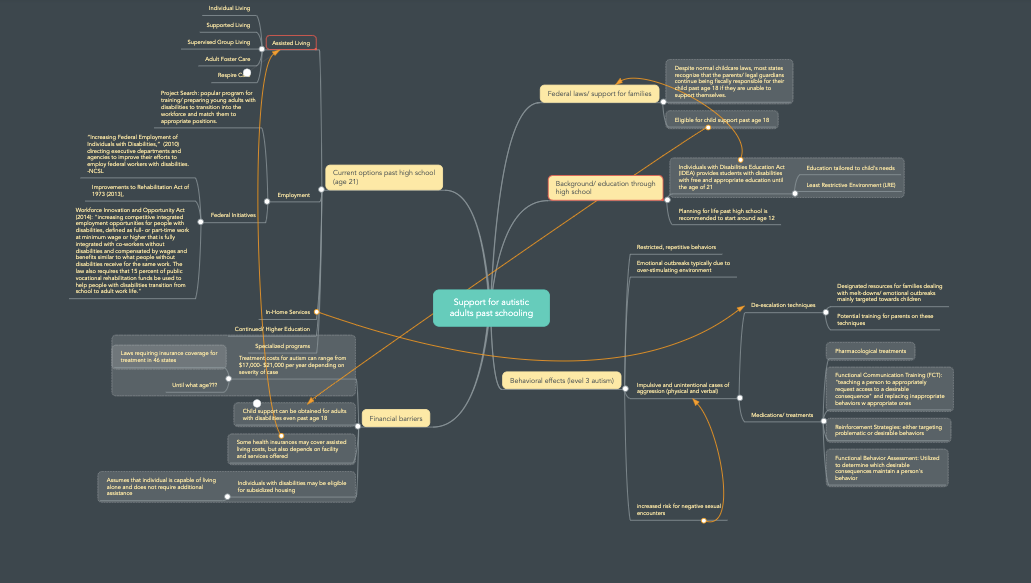 Moving into the generative research phase of my project, I utilized my findings from my secondary research to revise my problem statement. 

After shifting my focus slightly in order to narrow my scope into something more manageable for a design intervention, I developed this initial visual as a re-introduction to the problem space. A parent cited in an article I came across compared the transition process to "falling off a cliff", which I utilized as a guiding framework for visualizing the system.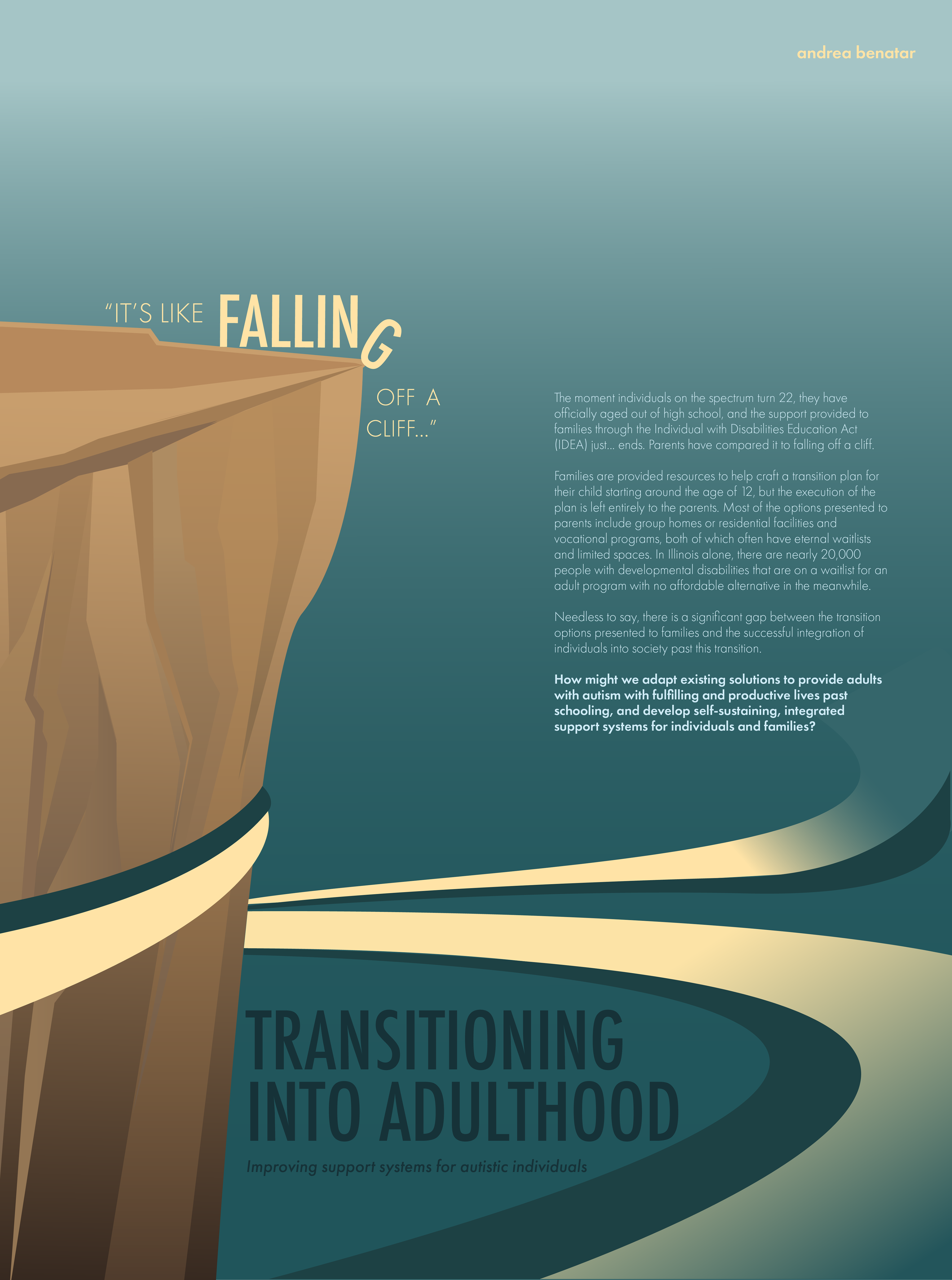 The next important step in the process was to visually represent and begin mapping the intricacies of the system I was analyzing, in order to be able to quickly pinpoint the gaps and potential spaces for intervention.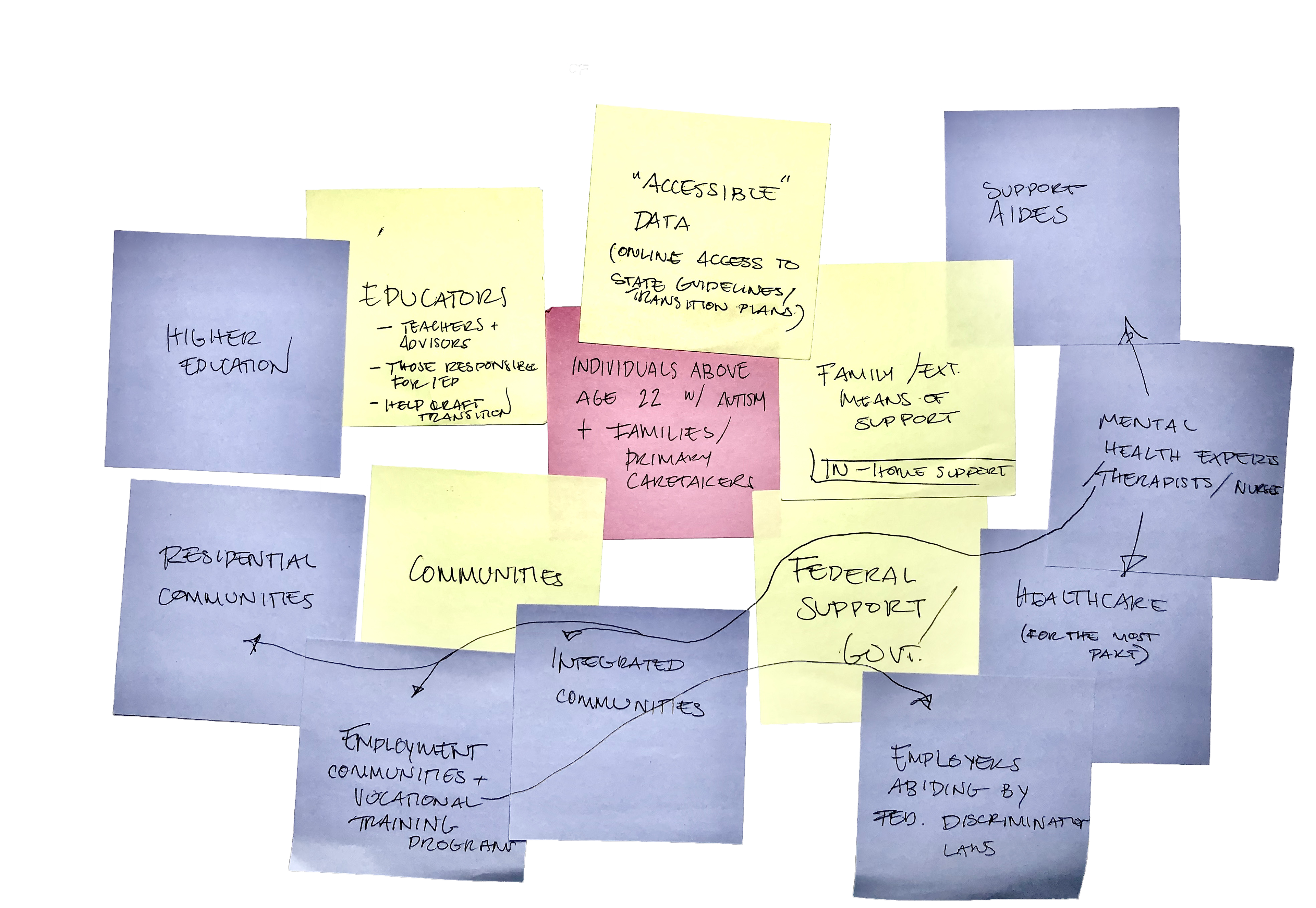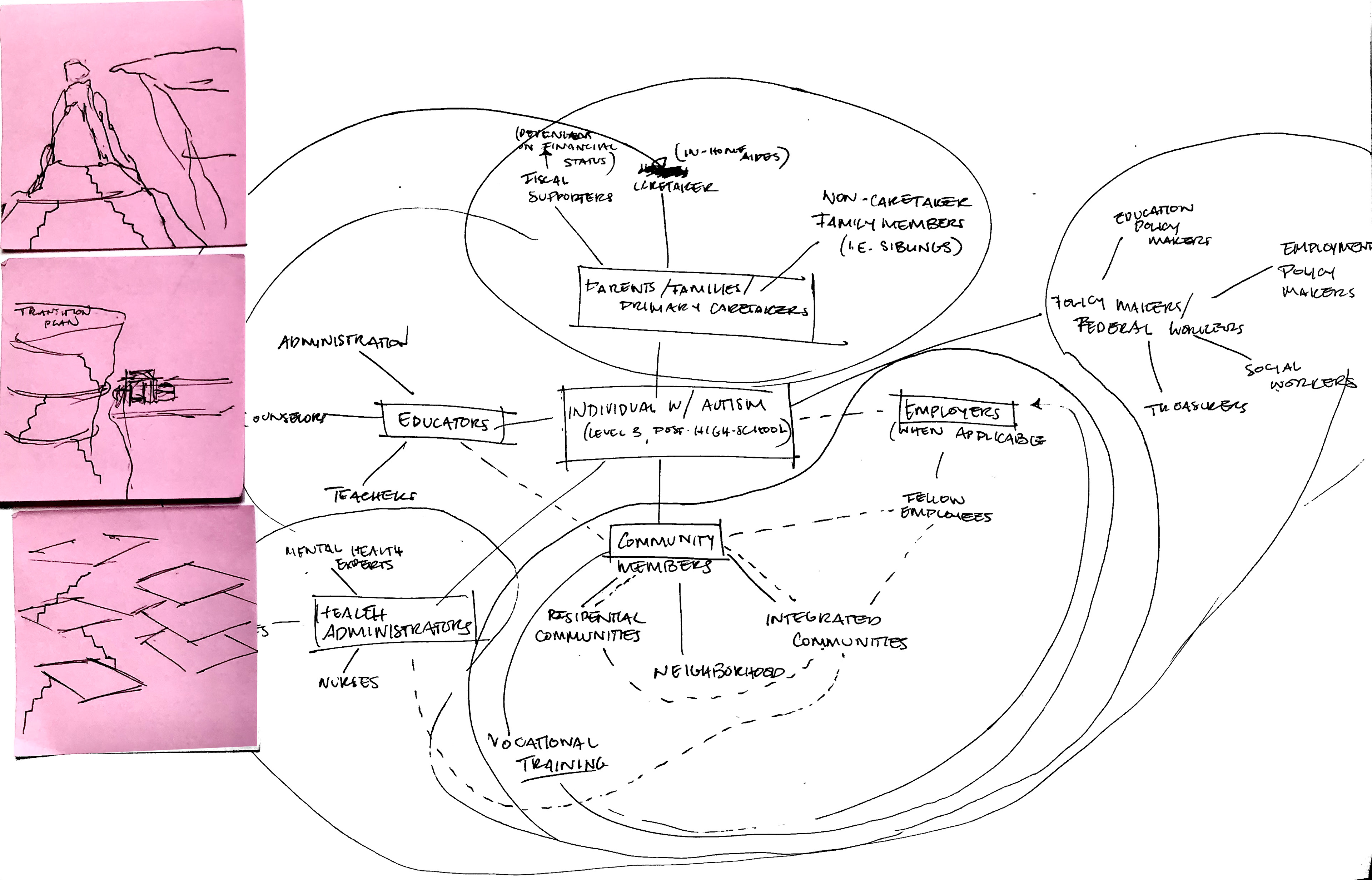 In my final stakeholder map (and later in my journey map), I utilized a broken ladder to symbolize the parts of the system that become harder and harder to access for families, with policy serving as an all-encompassing screen surrounding and, to some extent, controlling the system.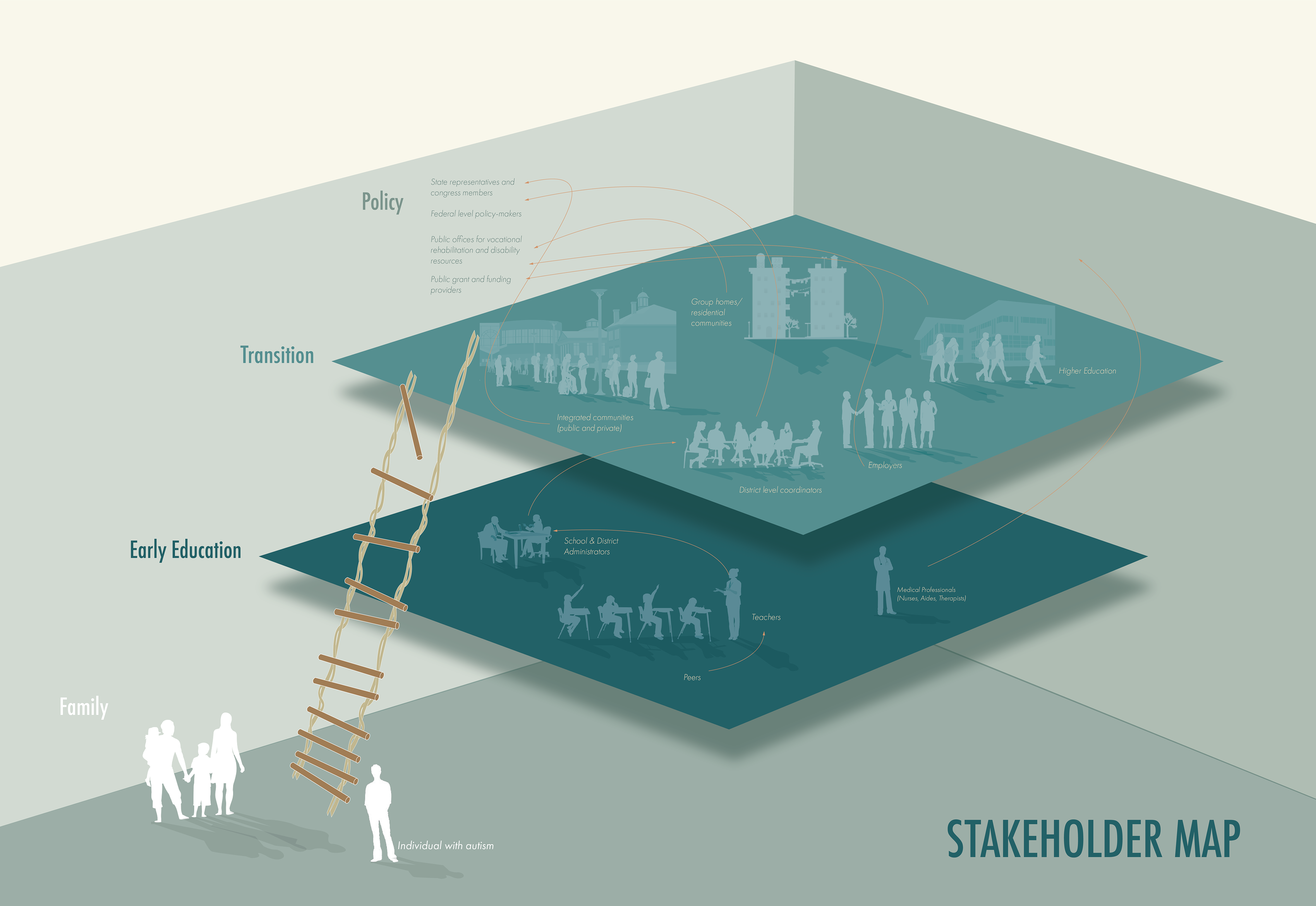 At the core of my primary research was a series of five in-depth interviews I conducted with various stakeholders in the transition process, including several end users. Due to COVID-19 constraints, I was only able to conduct remote phone interviews with the participants, though I hope to lead them through more co-participatory design once in-person contact can be established. 
*To protect the privacy of my participants, I have used pseudonyms in my descriptions below.  
Through the key insights I gathered from my interviews (which you can read in more detail here), I began sketching out the typical user journey and user pathways in order to visualize at which points in the process the system fails and at which points an intervention could occur.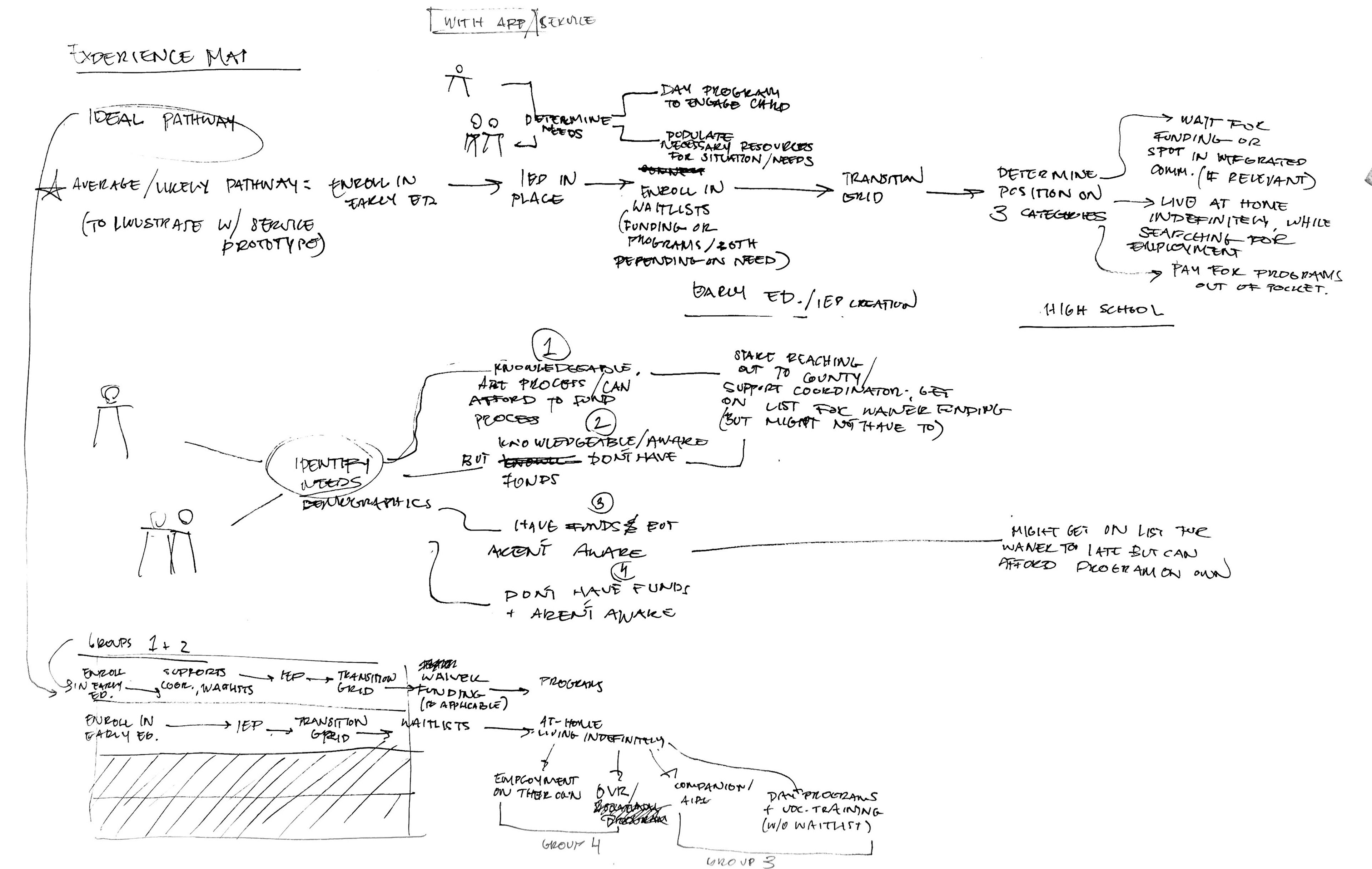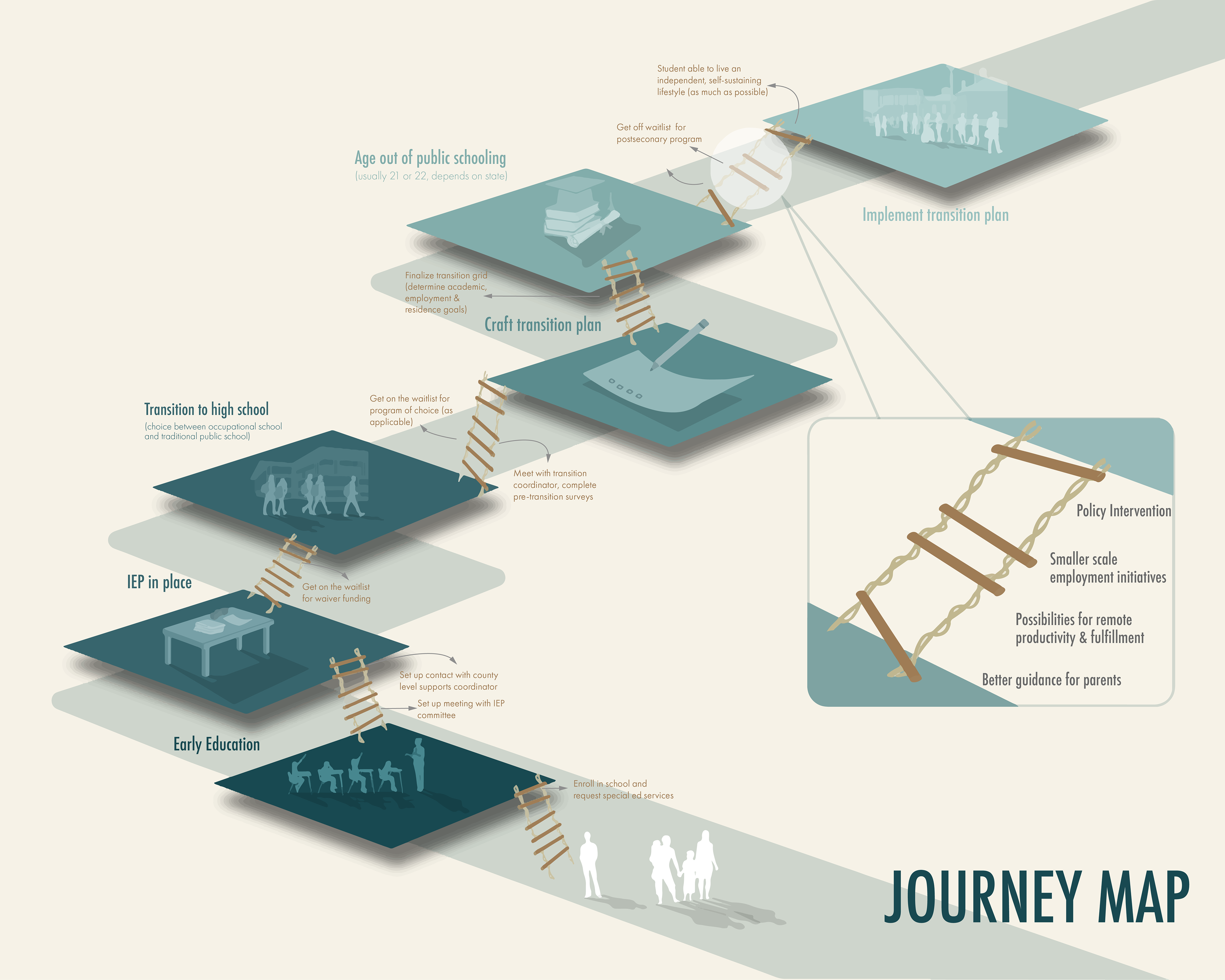 In the following user pathways diagram, I separated the primary users (in this case, parents and caretakers of individuals with autism) into four categories based on financial comfort and access to information. Throughout my research, it became very clear that most parents unfortunately lie in the bottom two categories, meaning they are, to some extent, misinformed on the specific steps of the transition process or become informed a bit too late. Thus, moving forward, I wanted my intervention to primarily cater to those two user types.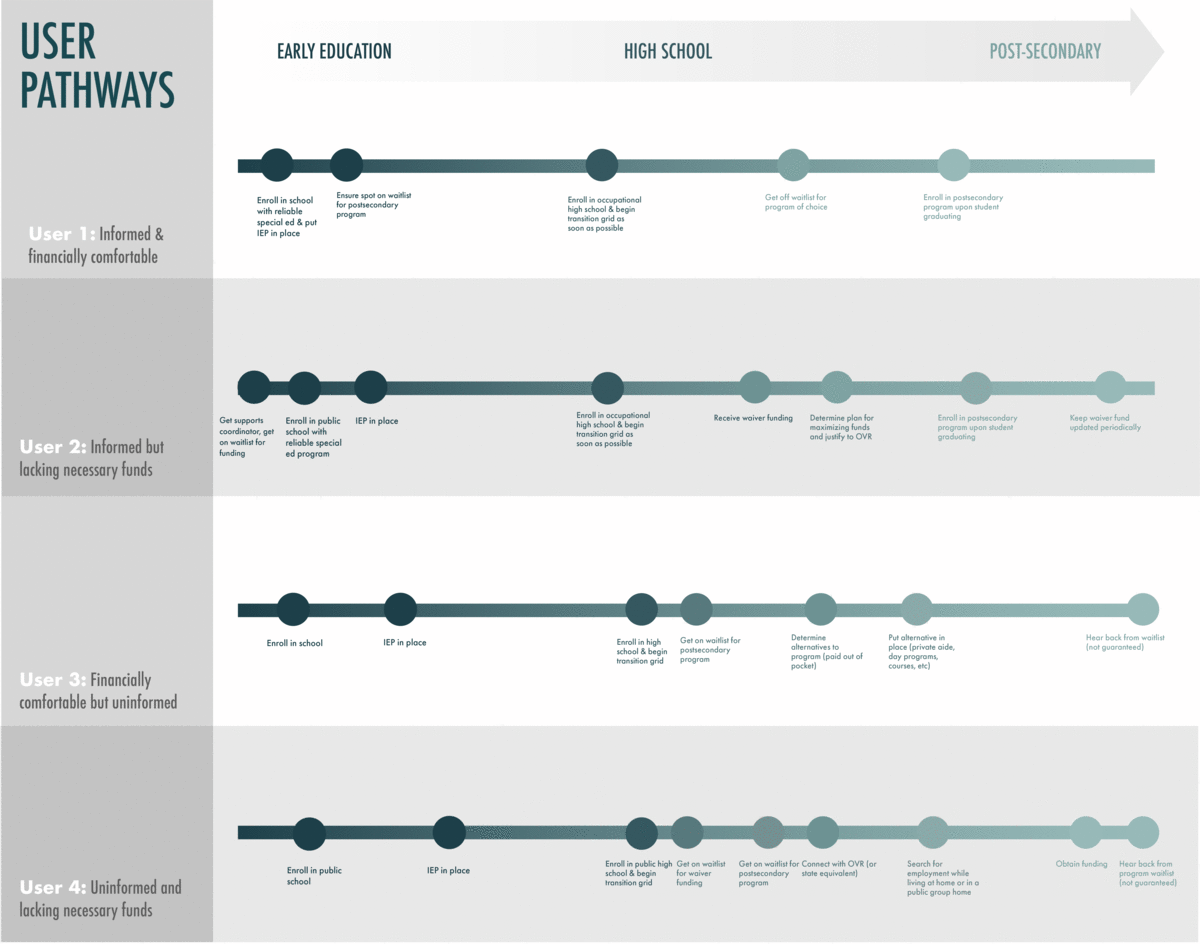 After successfully mapping the ins and outs of the system and the needs of various users as gathered through my interviews, I was ready to determine my designed intervention.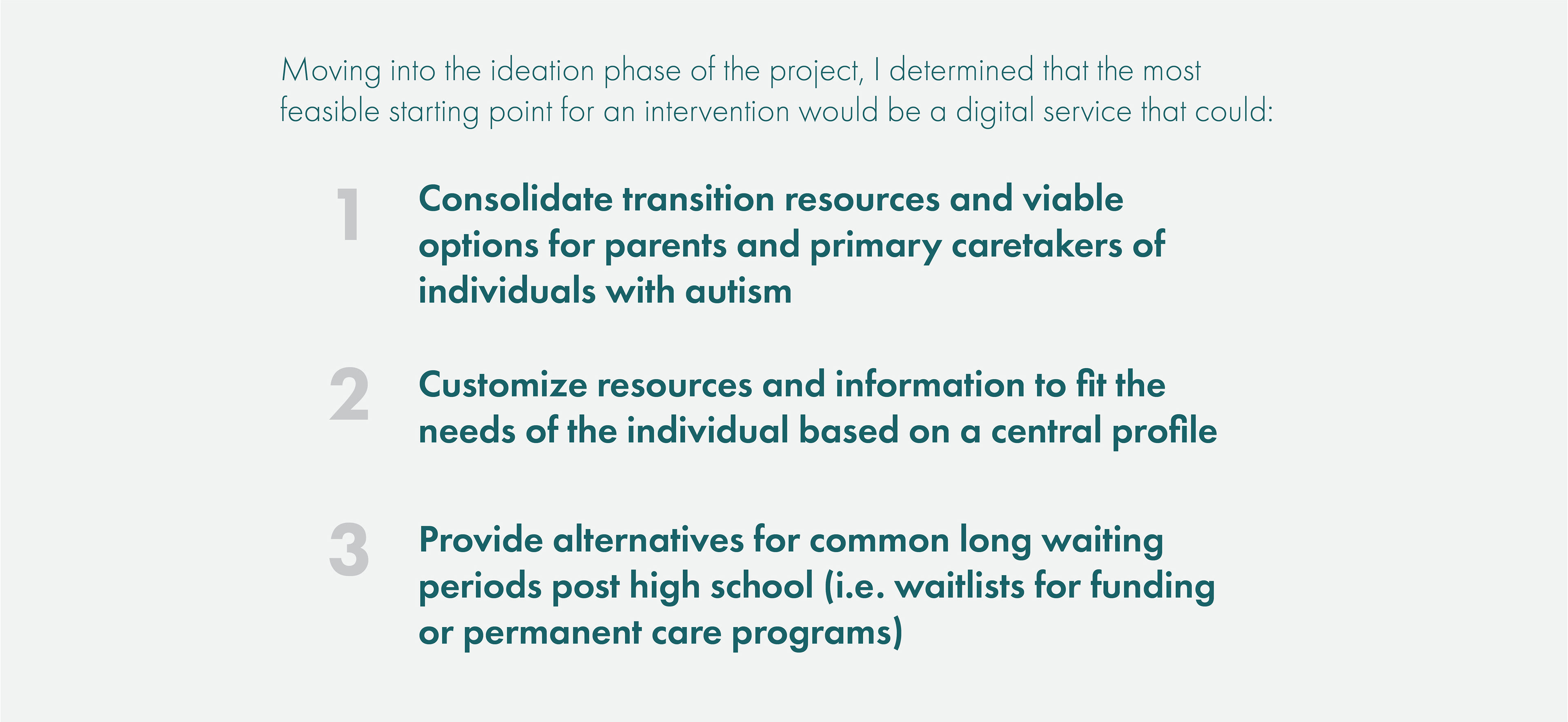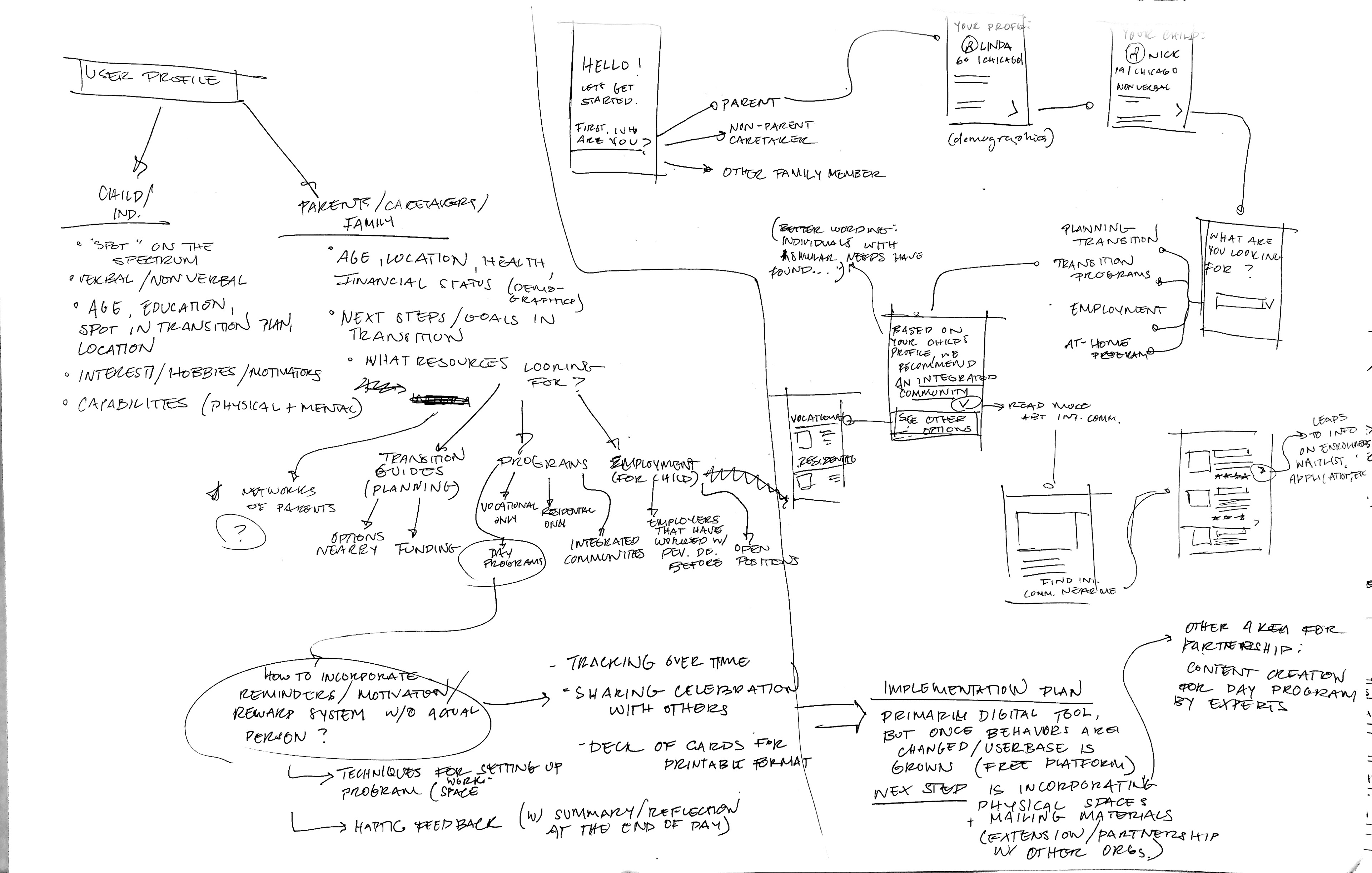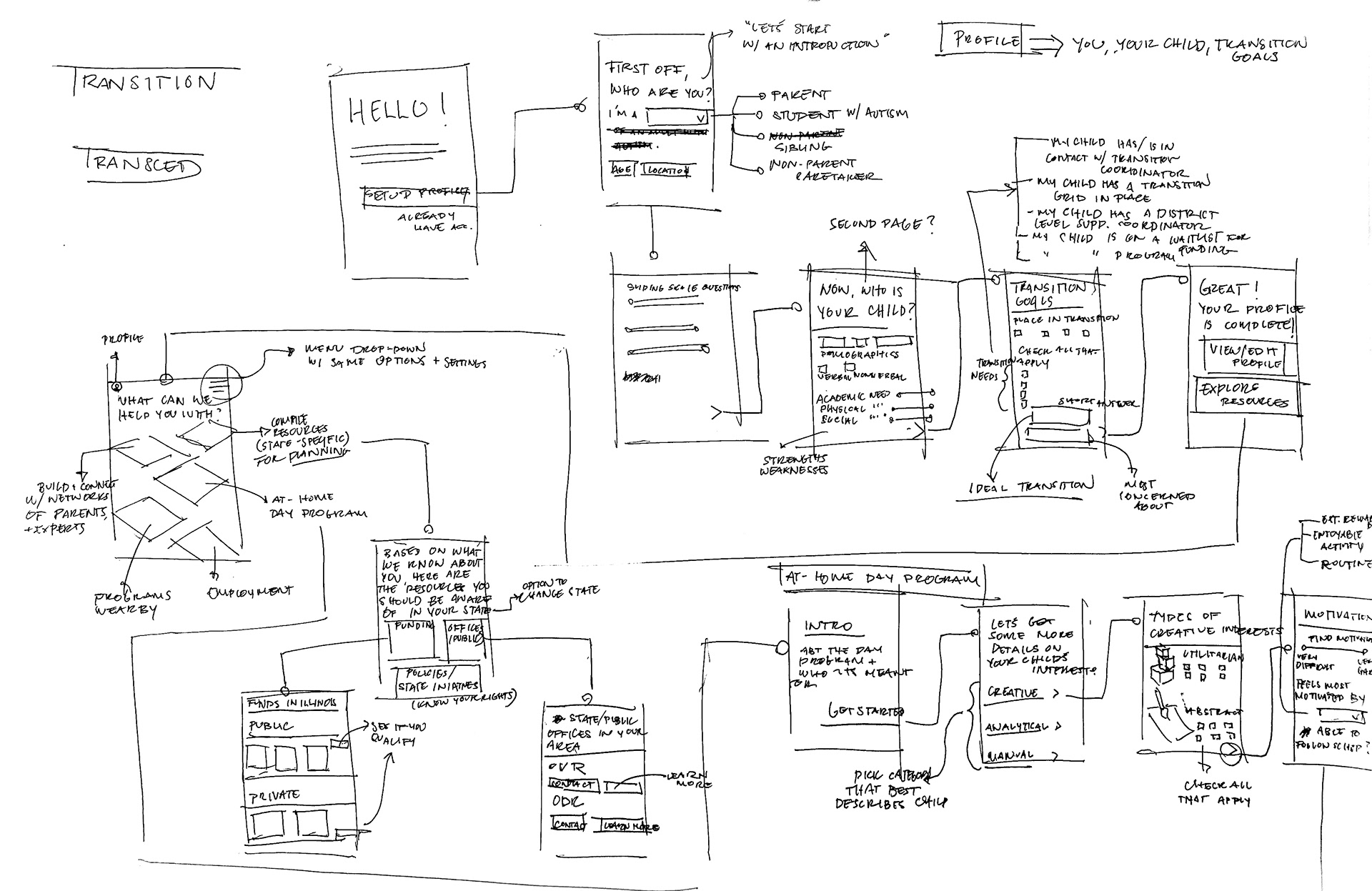 My final intervention, which I hope to keep iterating upon, is a digital service meant to guide parents and families through the transition period by compiling state-specific resources, networks, programs, and employment options specific to the individual's needs and demographic information. In addition, the service would provide the option to populate a customized day program for individuals living at home post-school while on a waitlist for waiver funding or a postsecondary program. 
As I continue to develop some of the details of the service and begin conducting user testing, feel free to explore my initial proposal below!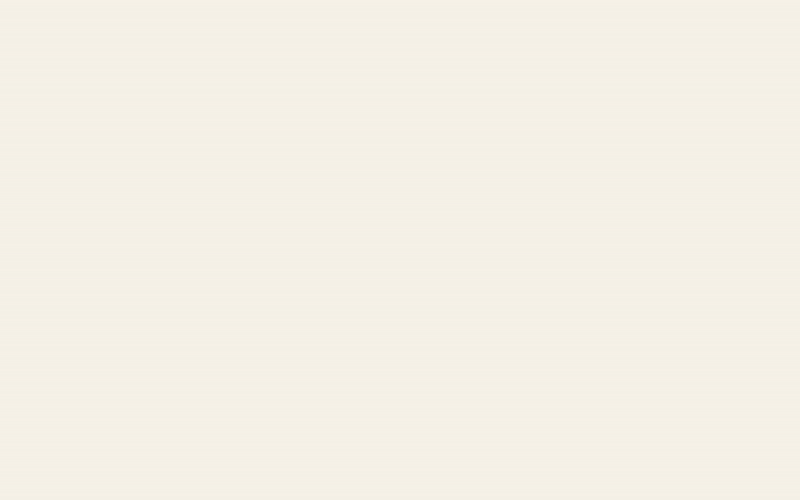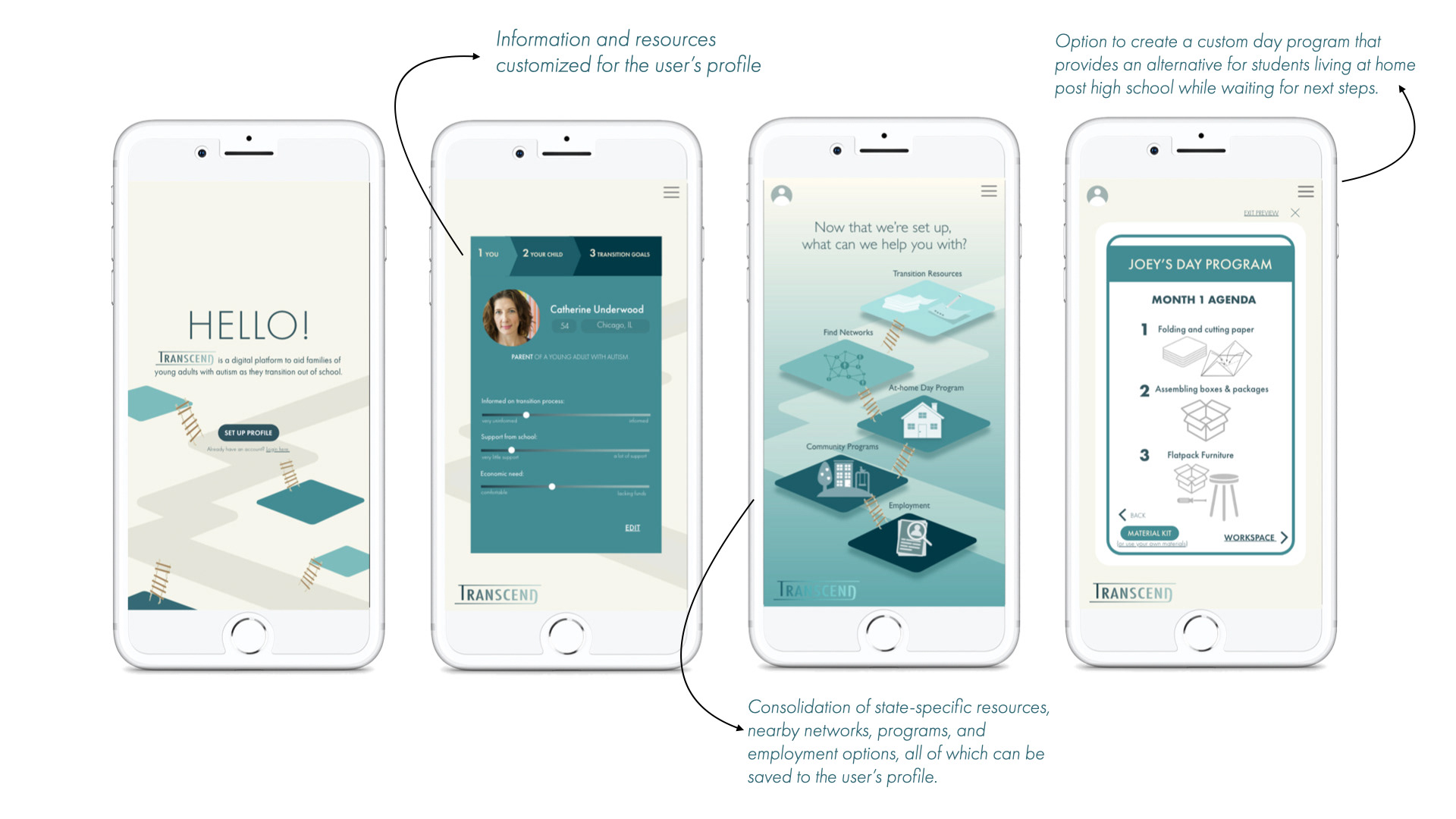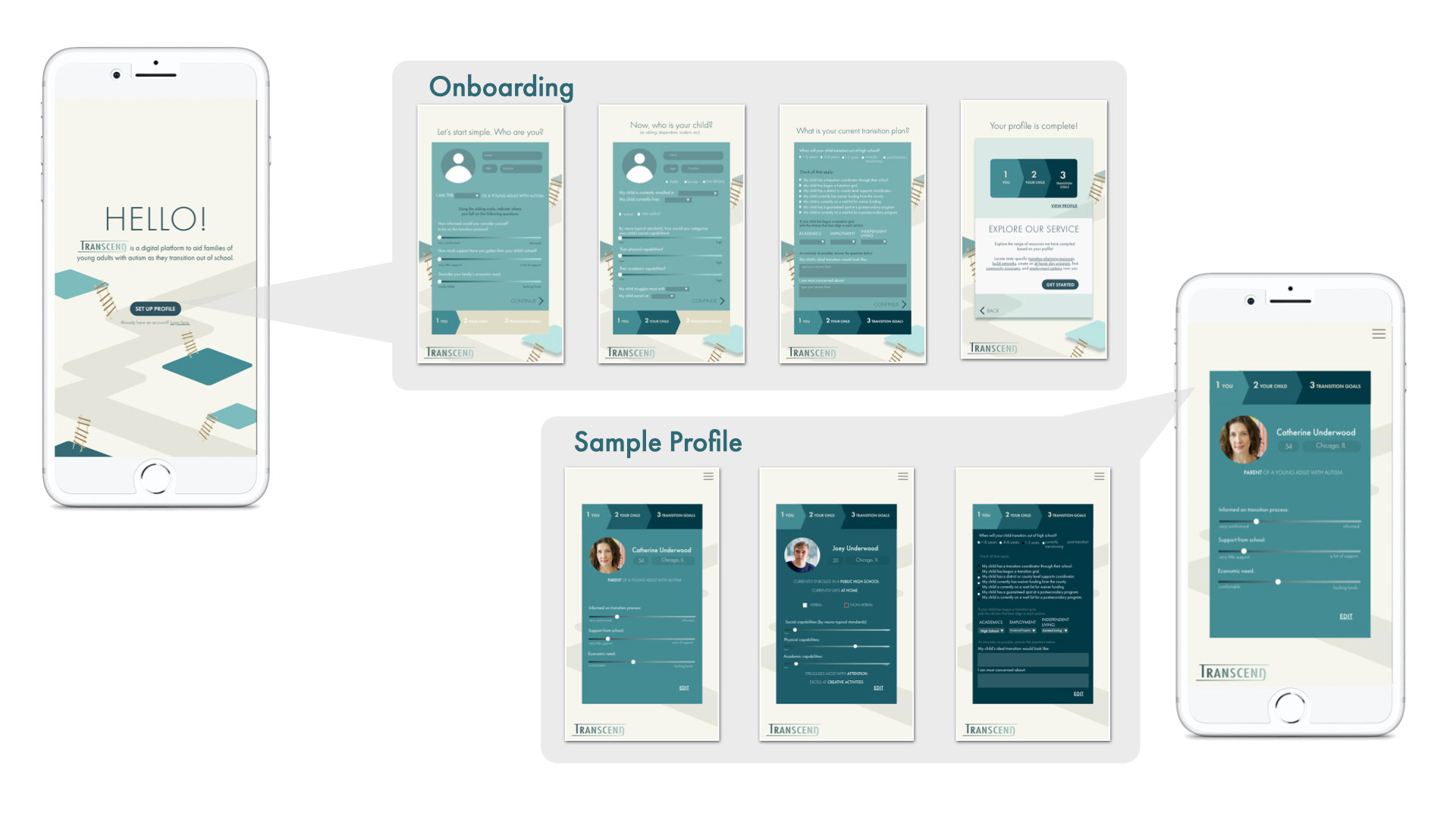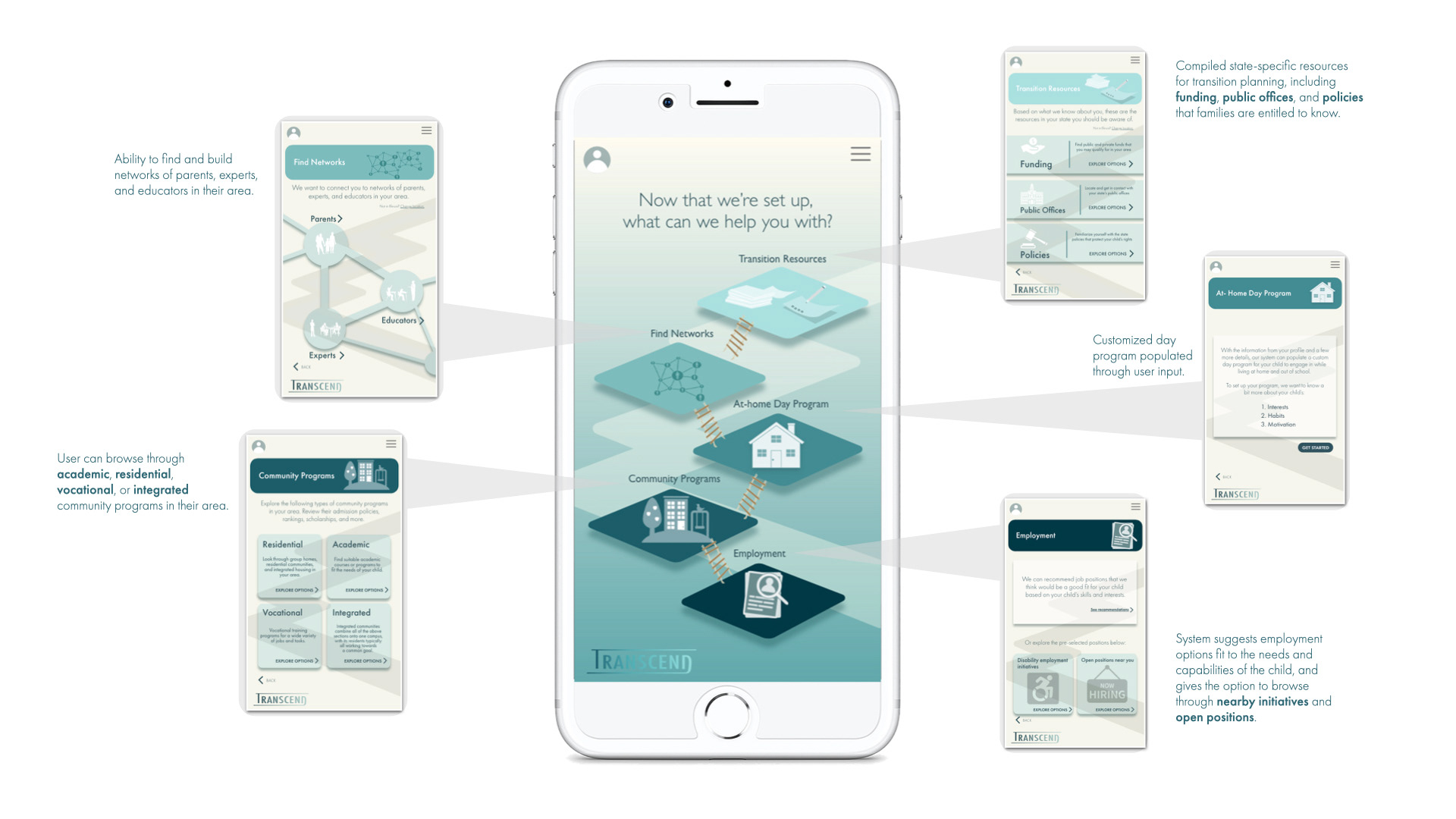 Moving into the next iteration of
Transcend

, I hope to further develop the details of the at-home day program, working with field experts to determine the
 appropriate activities (and delivery of those activities) for individuals on the spectrum. In particular, I hope to continue developing this part of the service in a physical format,
 to either accompany the app or provide an alternative for families that do not have access to the necessary technology. Below is a quick prototype I made to begin visualizing what a reward system might look like in its
 physical version. 
Stay tuned for updates to this page!